Electro hydraulic MRS motor grab for Associated Danish Ports
Associated Danish Ports recently took delivery of a 7 m3 electro hydraulic MRS motor grab, designed to handle wood fuel pellets at their terminal in Middelfart.
The material is very light and broken pellets produce some dust, why the grab is of the fully enclosed type, reducing escaping dust to an absolute minimum.
The grab is working on the Gottwald HMK 90 E mobile harbour crane, which was moved from Nyborg to the Middelfart terminal in 2003.
For more information about Associated Danish Ports A/S go to www.adp-as.dk.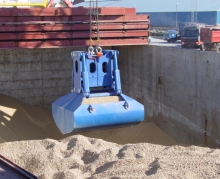 More grabs – new deliveries to Lidköping and Åhus in Sweden
 Åhus Hamn & Stuveri AB, have bought their tenth MRS grab.
This time a 1,6 m2 elektrohydraulic timber grapple, which will be used to handle some of the timber which fell during the hurricane which hit southern Sweden at the end of the winter.
The port will also rent a timber grapple from Port-Trade, so there will be ample capacity.
For more information on Åhus Hamn & Stuveri AB, go to www.ahushamn.se
Vänerhamn AB have for their Sennebogen hydraulic materials handler bought a 5,5 m3 MRS closed bulkgrab plus a 3,0 m3 orange peel grab for handling scrap.
Both grabs are fully hydraulic and provided with quick release coupling attachment suited for the Sennebogen machine.
Both grabs will be delivered to the Lidköping Terminal.
IVänerhamn already has MRS grabs working on their Fuchs materials handler working in the  Karlstad Terminal.
For more information on Vänerhamn AB, go to www.vanerhamn.se