SÖDERTÄLJE HAMN BUYS NEW GOTTWALD MOBILE HARBOUR CRANE
Through its dealer Port-Trade ApS, Gottwald has secured an order for an HMK 260 E from the Port of Södertälje, located just south of Stockholm.

The brand new, 5-axle mobile harbour crane will be equipped with a 45-feet Bromma EH 180 telescopic spreader and is scheduled to commence operation early May 2005.
The new Gottwald crane significantly increases the port's capacity to handle containers, as the existing Liebherr LHM 1200 mobile crane, will remain on active duty.
With its 100 tons capacity under the hook at a 19 m radius, the new Gottwald crane also enables Södertälje Port to handle heavy lifts. 
Electric power connection
The new Gottwald crane will be fitted with a reeled cable, for direct connection to the 690 V public power grid. The 100 m long cable, covers a 200 m long section of the quay, without the need for replugging.
Only Gottwald has diesel-electric cranes, which can be directly connected to an external power supply, further increasing the already high energy-efficiency of the electric crane drives and reducing noise and air-pollution, improving the work environment for everybody.
5-year service agreement
The contract includes a 5 year regular service agreement, which will be executed by Port-Trade ApS.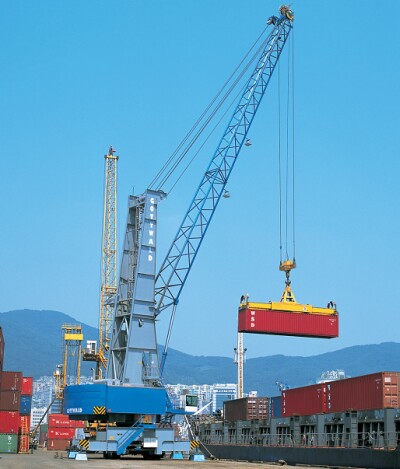 Decision followed a public tender process 
Port of Södertälje started the mandatory public tendering process in the autumn of 2004.
The port engaged consultancy KFS to prepare the tender documents and to make a detailed study and analysis of the incoming bids, everything in close collaboration with the port's own staff.
Following the detailed bid-evaluation, the Gottwald crane was the clearly preferred choice on all counts, including quality, technical performance, environmental aspects, operating economy and maintenance.
The slightly higher initial investment in the Gottwald crane was amply compensated by technical and operational advantages.
Gottwald strengthens its leading position in Scandinavia
This latest order brings the number of Gottwald mobile harbour cranes in Scandinavia to almost 60, putting market share at approx. 75% in the relevant capacity classes.
This is higher than Gottwald's market share world wide, reflecting the emphasis professional Scandinavian customers place on environmental aspects and low operating cost.
Links
For more information about the Port of Södertälje, please click www.soeport.se