Gottwald Port Technology now offers intelligent lifting aids that improve productivity and safety Vertical Lift Assistant
As part of the ongoing development and refinement of Gottwald cranes, it is now possible to buy a newly developed ad-on facility, which assists the crane driver in ensuring true vertical lifting of all loads. This new feature is especially relevant when lifting heavy and complex items, such as off shore components, transformers and wind turbines, which are often stored with little free space between.
By ensuring truly vertical lifting, swaying of the cargo is prevented and the risk of damage to expensive cargo is practically eliminated.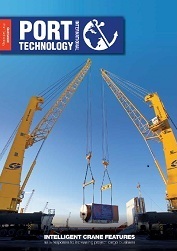 Tandem Lift Assistant
The vertical lift assistant program may be enhanced to include tandem lifting, where two Gottwald cranes can be operated simultaneously, by only one driver.
The system makes it possible to utilize the full rated capacity of both cranes, which means that two 100 ton cranes together can lift 200 tons.
Buying the Assistants with a new crane is, of course, most economical. However, both can be retrofitted on most Gottwald cranes that have an S7 control PLC on board.
See "Port Technology" for detailed information on both features. www.gottwald.com